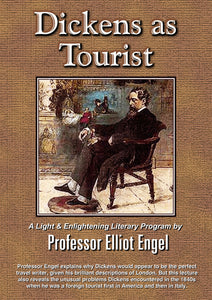 Audio Program 68 Dickens As Tourist
Regular price
$ 0.00
$ 0.00
Unit price
per
If this is a physical product,
shipping
will be calculated at checkout.
Professor Engel explains why Dickens would appear to be the perfect travel writer, given his brilliant descriptions of London. But this lecture also reveals the unusual problems Dickens encountered in the 1840s when he was a foreign tourist first in America and then in Italy. 46 minutes.
This program is part of Professor Engel's All Access Streaming Subscription. If you are a subscriber, log into your account to access this program and other content. To learn more, visit 
https://professorengel.com/pages/all-access-subscription-streaming-service