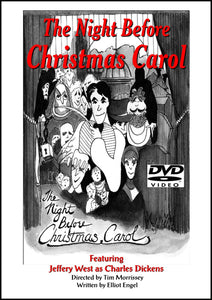 The Night Before Christmas Carol (VIDEO)
Regular price
$ 0.00
$ 0.00
Unit price
per
If this is a physical product,
shipping
will be calculated at checkout.
Imagine if you had been in the study with Charles Dickens while he was actually writing his best-loved story. That's where you'll be as Dickens creates and acts out over a dozen characters from A Christmas Carol. This delightful one-man show featuring Duke drama professor Jeffery West has been acclaimed by audiences and critics alike. Elliot has brought Dickens to life in his uniquely fascinating fashion. This is a family evening of the best kind and a Christmas present you'll remember all year long.
Featuring Jeffery West as Charles Dickens
Written by Elliot Engel
Directed by Tim Morrissey 
Time: 67 minutes
"Jeffery West portrays the author with such exuberance that audiences of all ages will be captivated. This is an excellent instructional tool for literature and writing instructors.The video brings new life to the familiar story." - School Library Journal
This program is part of Professor Engel's All Access Streaming Subscription. If you are a subscriber, log into your account to access this program and other content. To learn more, visit 
https://professorengel.com/pages/all-access-subscription-streaming-service