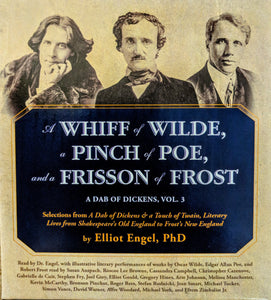 A Whiff of Wilde, a Pinch of Poe, and a Frisson of Frost 6-CD set
Regular price
$ 5.00
Sale price
$ 29.95
Unit price
per
If this is a physical product,
shipping
will be calculated at checkout.
INVENTORY CLEARANCE SALE!
In this 7-hour long, 6-CD Set, Dr. Engel provides introductory lectures on Oscar Wilde, Edgar Allan Poe, and Robert Frost.
His lectures are then greatly enriched and reinforced by brilliant dramatic readings from these authors' greatest  works by such talented actors as Joel Gray, Elliot Gould, Stephen Fry, Jean Smart, Michael York, and Efrem Zimbalist Junior.

Do you or your loved ones have a long car trip coming up? Elliot has you covered (and entranced) for over 400 Miles!
This 6-CD set (7 hours playing time) was originally sold by Elliot, on the road only, for $30. We are now offering it online at a great discount for all to enjoy.