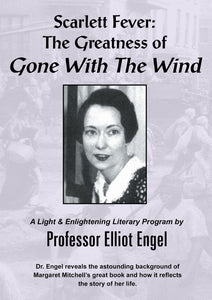 CD14 Scarlett Fever: The Greatness of Gone With The Wind
Regular price
$ 11.97
Sale price
$ 19.95
Unit price
per
If this is a physical product,
shipping
will be calculated at checkout.
Dr. Engel reveals the astounding background of Margaret Mitchell's great book and how it actually reflects the story of her life. No matter how familiar you might be with the novel and the movie, Professor Engel will fascinate you with so much new and exciting information about this most popular novel and its remarkable yet most peculiar author.
Listen to a sample of Scarlet Fever: The Greatness of Gone with the Wind Below:
(The full program is 55 minutes in length)