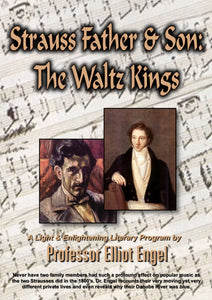 CD77 Strauss Father and Son: The Waltz Kings
Regular price
$ 11.97
Sale price
$ 19.95
Unit price
per
If this is a physical product,
shipping
will be calculated at checkout.
Never have two family members had such a profound effect on popular music as the two Strausses (Johann Strauss I and Johann Strauss II) did in the 1800's. Dr. Engel recounts their moving, yet very different, private lives and even reveals why their Danube River was blue. 56 minutes.