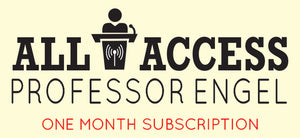 All Access Subscription: ONE MONTH
Regular price
$ 19.00
$ 19.00
Unit price
per
If this is a physical product,
shipping
will be calculated at checkout.
GOOD FOR ONE MONTH OF UNLIMITED STREAMING ACCESS
YOU MUST HAVE AN ACCOUNT TO ACCESS THE PROGRAMMING. You can create your account on the checkout page by clicking "Have an account or want one? Click HERE" and then choosing Create Account. 
NOTE: Initial access is not immediate. Darian will set you up manually after your order is placed. You will get an email with further directions when access has been added to your account page. 
If you already have an active subsription, your access will be extended by one month.