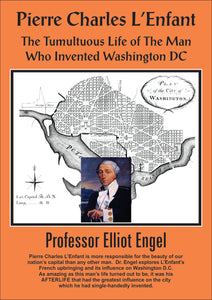 CD107 Pierre Charles L'Enfant: The Tumultuous Life of the Man Who Invented Washington, DC
Regular price
$ 19.95
$ 0.00
Unit price
per
If this is a physical product,
shipping
will be calculated at checkout.
Pierre Charles L'Enfant is more responsible for the beauty of our nation's capital than any other man. Dr. Engel explores L'Enfant's French upbringing and its influence on Washington D.C. As amazing as this man's life turned out to be, it was his AFTERLIFE that had the greatest influence on the city which he had
single-handedly invented. 55
minutes.