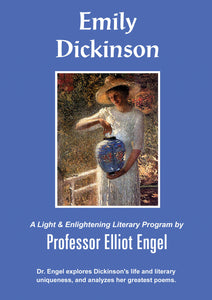 CD13 Emily Dickinson
Regular price
$ 19.95
$ 19.95
Unit price
per
If this is a physical product,
shipping
will be calculated at checkout.
Emily Dickinson has been ill-served by many biographers in having so many dubious stories associated with her peculiar life. Dr. Engel separates the facts from the fictions concerning her eccentricities and, more importantly, he dramatically reads aloud and carefully explicates some of her most beautiful poems.