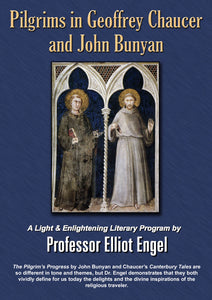 CD84 Pilgrims in Chaucer and Bunyan
Regular price
$ 19.95
$ 19.95
Unit price
per
If this is a physical product,
shipping
will be calculated at checkout.
The Pilgrim's Progress by John Bunyan and Chaucer's Canterbury Tales are so different in tone and themes, but Dr. Engel demonstrates that they both vividly define for us today the delights and the divine inspirations of the religious traveler. 65 minutes.