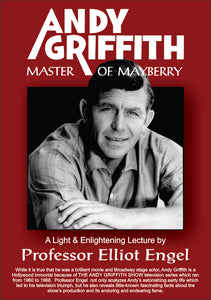 Audio Program 106 Andy Griffith: Master of Mayberry
Regular price
$ 0.00
$ 0.00
Unit price
per
If this is a physical product,
shipping
will be calculated at checkout.
While it is true that he was a brilliant movie and Broadway stage actor, Andy Griffith is a Hollywood immortal because of THE ANDY GRIFFITH SHOW television series which ran from 1960 to 1968.  Professor Engel  not only analyzes Andy's astonishing early life which led to his television triumph, but he also reveals little-known fascinating facts about the show's production and its enduring and endearing fame. 48 minutes.
This program is part of Professor Engel's All Access Streaming Subscription. If you are a subscriber, log into your account to access this program and other content. To learn more, visit 
https://professorengel.com/pages/all-access-subscription-streaming-service