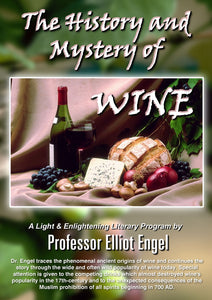 Audio Program 70 The History and Mystery of Wine
Regular price
$ 0.00
$ 0.00
Unit price
per
If this is a physical product,
shipping
will be calculated at checkout.
Dr. Engel traces the fascinating ancient origins of wine and continues the story through the wide and wild popularity of wine today. Special attention is given to the competing drinks which almost destroyed wine's popularity in the 17th-century and to the unexpected consequences of the Muslim prohibition of all spirits beginning in 700 A.D. Using anecdotes, analysis, and large doses of humor, Professor Engel brings to life the intoxicating journey of wine from the Ancient Egyptians through the invention of champagne, and even explores America's small but growing influence on recent wine culture.
You will learn:
- the six words that define wine
- interesting ways that wine has been described
- where wine originated
- how to drink wine
- wine makes ____ taste better
- the surprising way that Egyptians drank wine
- the funny way that Egyptians classified wine
- why wine is associated with the rich
- wine's connection to symposiums
- how wine grew and shrank in popularity
- when wine almost went away
- medical use of wine
- why there are 6 glasses of wine in every bottle
- the 4 competitors to wine
 Listen to a sample of The History and Mystery of Wine:
(The full program is 60 minutes in length)
This program is part of Professor Engel's All Access Streaming Subscription. If you are a subscriber, log into your account to access this program and other content. To learn more, visit 
https://professorengel.com/pages/all-access-subscription-streaming-service